Rays of The Harmonist
The Bhaktivedanta Memorial Library is proud to offer "Rays of The Harmonist", the twice-yearly magazine of Pure Bhakti.
All issues of "Rays of The Harmonist" are in Adobe Portable Document Format (PDF). Some of the files contain large images and are a bit large. Please be patient, as it may take a few minutes to download them. Once downloaded, you will need Adobe Acrobat Reader for reading them. If you don't have Adobe Acrobat Reader, please get it from
here
for free.
If you'd like to be notified when issues are added and updated, please subscribe to the PureBhakti.Com News mailing list.
Enter Your E-mail Address Here
Note: Some of the files are very large and may take a while to download if you have a slow internet connection.
Rays of the Harmonist Volume 9 (Winter 2001) 1.9 MBs
Rays of the Harmonist Volume 10 (Summer 2002) 5.6 MBs
Rays of the Harmonist Volume 11 (Karttika 2002) 9.1 MBs
Rays of the Harmonist Volume 12 (Gaura Purnima 2003) 6.3 MBs
Rays of the Harmonist Volume 13 (Kartikka 2003) 11.8 MBs
Rays of the Harmonist Volume 14 (Kartikka 2004) 6.3 MBs
Rays of the Harmonist Volume 15 (Kartikka 2005) 14.9 MBs
Rays of the Harmonist Volume 16 (Kartikka 2006) 13.4 MBs
Rays of the Harmonist Volume 17 (Kartikka 2007) 4 MBs
Rays of the Harmonist Volume 18 (Kartikka 2008) 6 MBs
Rays of the Harmonist Volume 19 (Gaura Purnima 2009) 9.2 MBs
Rays of the Harmonist Volume 20 (Kartikka 2009) 5.3 MBs

Also Available: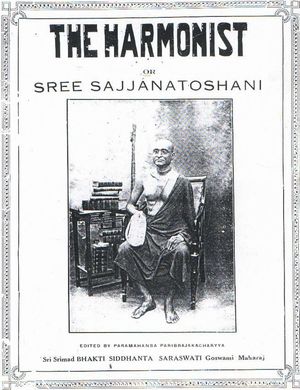 VOL. XXIX | JULY 1931, Chaitanya-Era 445 | NO. 1.
THE HARMONIST or Shree Sajjanatoshani
Edited by Paramahansa Paribrajakacharya
Sri Srimad Bhakti Siddhanta Saraswati Goswami Maharaj
552 pages EXTREMELY LARGE .PDF FILE: 373 MBs
---
Return to